YUKI :



Mile Tights with Braces:
They run big. All sizes can be worn much longer than the biggest size mentioned. So a 6-12m can be worn much longer than 12m. That counts for all sizes.  So for example for a 3m old baby you need the size 0-6m. For a 9m old baby the size 6-12m is the right size and know you will wear it much longer than the biggest size mentioned.
Mile Tights with Braces Shorts

BEACH & BANDITS
important that the garment correctly fits my child?
Beach & Bandits garments is sized to fit snuggly and provide a second skin for the body, a protective skin. If the garment fits well, your little wild child will quickly forget they are wearing it, will not get cold or uncomfortable when they come out of the water and will happily keep the garment on all day.
We recommend sizing up if your child is between sizes.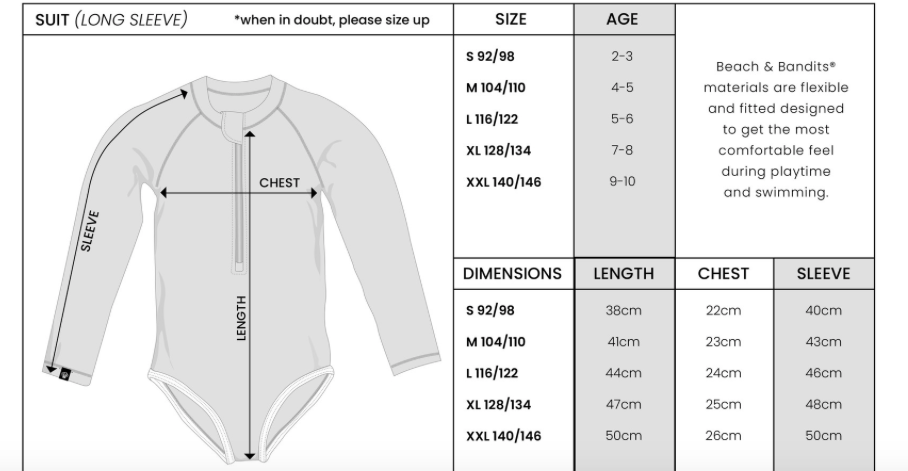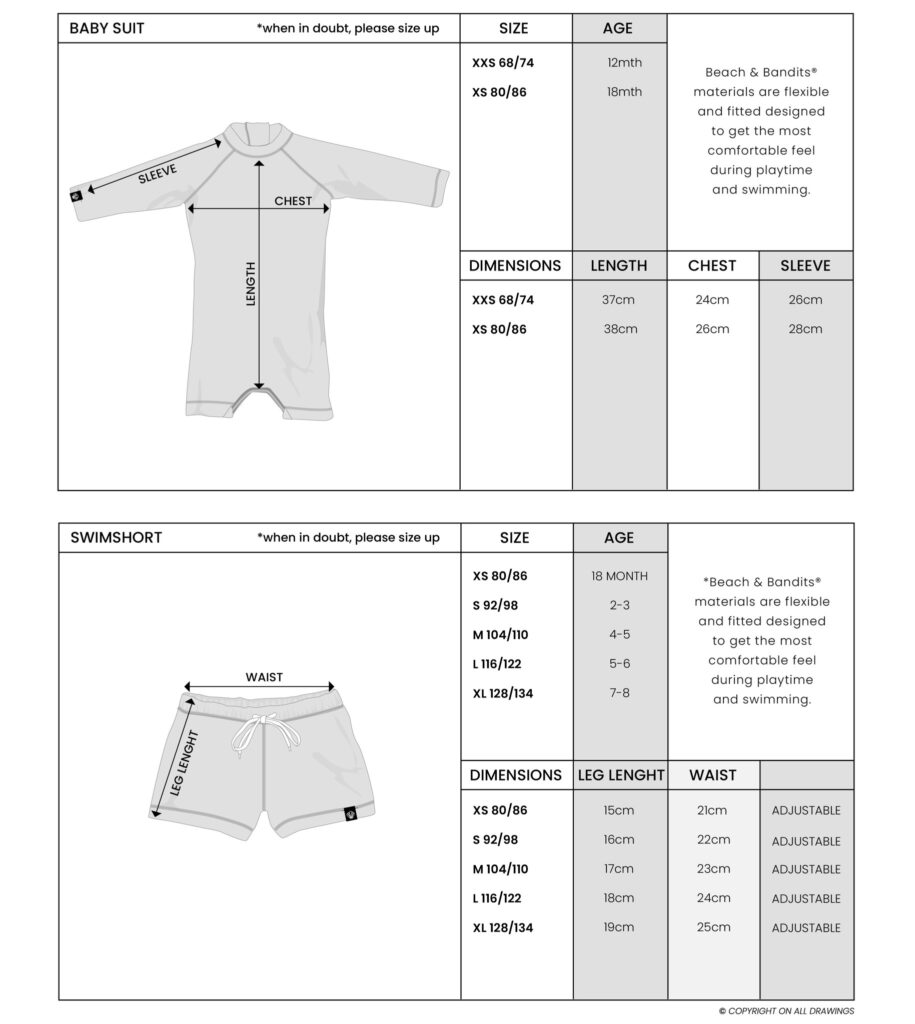 Poudre Organic:
1m = size 56
3m = size 62
6m = size 68
9m = size 74
12m = size 80
18m = size 86
24m = size 92
CONDOR:
CHILDREN SOCKS
Size
Shoe Size EUR
 Shoe Size UK
000
0-3 months
00
3-6 months
0
6-12 months
1*
12-18 months
2
18-24
2-7
3*
21-23
4.5-6
4
23-26
6-8.5
*Size only avaible for 100% cotton products.
CHILDREN TIGHTS
Size
Shoe Size
Height
Weight
000
0-3 months
50-57 cm
<4 kg
00
3-6 months
58-65 cm
4-8 kg
0
6-12 months
66-73 cm
8-11 kg
1*
12-18 months
74-81 cm
11-13 kg
2
18-24 months
82-89 cm
13-15 kg
3*
21-23
90-97 cm
15-17 kg
4
23-26
95-106 cm
17-20 kg
*Size only avaible for 100% cotton products.
BISGAARD RAIN BOOTS
Size Guide (Insole):
20 = 133 mm
21 = 140 mm
22 = 147 mm
23 = 154 mm
24 = 160 mm
25 = 166 mm
26 = 172 mm
27 = 179 mm
28 = 187 mm
29 = 192 mm
30 = 200 mm
31 = 208 mm
32 = 215 mm
Hvid:
MERINOWOL IS ZIJDEZACHT EN JEUKT NIET
Anders dan gewone wol, jeukt merinowol niet dankzij de hogere dichtheid (meer wolhaartjes per cm2 in dan bij traditionele wol) Het haar is vaak 10 keer zo dun vergeleken met normaal schapen- haar. Bovendien voelt het veel zachter aan wat irritatie aan de huid voorkomt. Dit maakt onze producten zo heerlijk zacht en zijn ze perfect voor een gevoelige huid en zeer geschikt voor baby- producten.
MERINOWOL IS ZELFREINIGEND EN GEURAFSTOTEND
Een andere fijne eigenschap van deze wol is dat het niet gaat ruiken bij intensief gebruik. De wol is van nature namelijk zelfreinigend. U denkt een stof die zelfreinigend is, dat kan toch niet? Toch wel. De vezel bevat namelijk lanoline. Als dit een beetje vochtig wordt, dan wordt de lanoline omgezet in lanoline zeep, wat een natuurlijk antibacterium is. Aangezien bacteriën een grote rol spelen bij een zweetgeur, blijf je fris ruiken. Ook handig bij de melkgeurtjes… De wol stoot door de jne structuur bacteriën af en is daardoor zeer onderhoudsvriendelijk. Je hoeft producten met merinowol dus minder vaak te wassen. Hoe vaker je wast, hoe minder lanoline en dus minder bescherming. Merinowol is een natuurlijk product dat zeer slijtvast is. Een product gemaakt met merinowol gaat jarenlang mee.
MERINOWOL IS WARMTE-EN VOCHTREGULEREND
Voor baby's is het nog niet mogelijk hun eigen lichaamstemperatuur te regelen zoals volwassenen dat kunnen.De wol is perfect voor zowel winter als zomer. Merinowol creëert een microklimaat rond je baby, waardoor ze steeds een constante temperatuur hebben. In de zomer wordt water geabsorbeerd van je baby's huid. In de winter, neemt het de koude lucht op en circuleert het warme lucht, waardoor je baby het warm heeft. Door een constante gepaste temperatuur krijgt de baby meer kans tot diepere en rustgevende slaap. Meerdere studies hebben aangetoond dat baby's die in merino slapen, minder wenen, langer slapen, beter eten en sneller gewicht krijgen. Merinowol heeft ook meer vezels in het weefsel, waardoor het meer kleine luchtdeeltjes insluit en hierdoor goed isoleert. Het kan daarnaast ook 30% van het eigen gewicht aan vocht opnemen en laat dit vocht vervolgens van het lichaam wegvloeien, dit houd de drager droog en comfortabel. Merino wol ademt veel beter dan bijvoorbeeld katoen en andere door de mens gemaakte garens. Dit zorgt ervoor dat vocht beter verdampt en oververhitting wordt tegengegaan. Je kunt het verge- lijken met een tweede huid die zich aanpast aan verschillende omstandigheden.
VOORDELEN
• Beste voor allergieën, vanwege zachtheid • Geur bestendig
• Vlam bestendig
• Warm in de winter, koel in de zomer • Hogere UV protectie dan andere stoffen • Elastisch
NOG EEN PAAR TIPS
• Was merinowol zo min mogelijk; beter is te laten 'luchten'.
• Gebruik een wolwasmiddel en handwas of wolwasprogramma.Handwas geniet sterk de voorkeur omdat wolwasprogramma's niet altijd precies doen wat het programma zegt, waardoor krimp zou kunnen ontstaan • Gebruik geen wasverzachters. • Niet in de droger/ droogkast
Note: De Hvid Cocoon is geen slaapzak. gebruik deze altijd onder toezicht.